Earn Money and Customers During the Global 'Messenger Revolution'
Please Join As an Joint Venture Partner!
SIGN UP here: http://SignUp.MessengerRevolution.com
SUPER AFFILIATE and SPONSOR DETAILS:
Have a list size or network reach of over 3,000? Are you a speaker who wants to get your message to a Global Audience? CONTACT: allison.messengerrevolution@gmail.com
Or, you can login to your account at anytime at: http://LogIn.MessengerRevolution.com
The Opportunity:
Messenger Revolution is a global virtual training conference and intention event starting on July 23, 2012, featuring the world's leading inspirational change agents, wealth creators, authors and teachers. Our purpose is to awaken millions to build a lucrative life and business around their message!
Darius Barazandeh and dozens and dozens of top inspirational leaders have joined forces to awaken millions and offer life altering programs, systems and events for millions around the globe. This is your opportunity to EARN LARGE affiliate commissions while getting on the ground floor of a world-changing movement!
We've created The 'Messenger Revolution' Affiliate Program to reward you for sharing and referring others to join our 'You Wealth Revolution' and the programs we offer. It's our way to allow you to GET in ON THE GROUND FLOOR of this MASSIVE MOVEMENT!
How Our Affiliate Program Works
We will pay you a commission for every purchase that comes through people who use your affiliate link. After you sign up below, we supply all the tools and support you'll need to get your name out there as a 'You Wealth' partner and earn large LIFETIME affiliate commissions!
Some of the benefits include:
· Big Commissions: You'll be credited with 50% of up front sales!
· 2nd Tier Commissions: If you refer a friend to become an affiliate, you will receive 5% of any of their sales.(see our super affiliate package for even better commissions!) Send an email to allison.messengerrevolution@gmail.com
· Unlimited Potential: There is unlimited potential (no financial caps)
· Fast and reliable payment: We send monies via paypal or check (you decide) the first of the month – 30 days after the 21 day summit ends.
· Want to EARN even MORE money: Have a list size or network reach of over 3,000? Become a SUPER Affiliate. How? Send an email to allison.messengerrevolution@gmail.com
Promotional Ways
Here's some ideas to share the Messenger Revolution with your tribe!
We know the more you share with your tribe the more open they will be when they participate in the Messenger Revolution

1. Blog: Write blog posts and articles on what being a messenger actually means and invite them to optin to the 21 Day 'Messenger Revolution' Event!
2. E-mail: Get the word out by email. We have lots of email ideas for you that will make the conversation with your friends and associates easy for you and fascinating for them. You can find them on our blog:

3. Pictures: Pictures are worth a thousand words. JOIN the 'Messenger Revolution' Use our seals and banners on your website or on your Facebook account or Blog.
Get Started Now: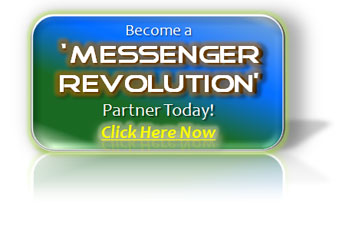 If you have questions, write to our affiliate management team at allison.messengerrevolution@gmail.com